Anjuman E- Rahmania Mainia Maizbhandaria
"And hold first altogather by the rope which Allah (Stretches out for you) and be not divided among yourselves". Surah Al-Imran 03:103
Religion is above all cast, creed & community.Religion is not having any boundary.From the very beginning Allah sent his Messenger to preach his word & building eternal love with in creature. Allah sent as his last Messanger Ahmad Mujdaba Mohammed Mustafa (SM).Finally he (SM) preach and given solution for peace & humanity.By following Prophet all human being got rid of dirtiness & darknees and became the best above all.After the Prophet (SM) The honourable Wali Awlia (Friends of Allah) shows the way of reaching Almighty Allah .For the decade after decade the Schollers,Saints & Wali Awlia shows the way with the reference of Quran & Sunnah for getting the real truth also way of reaching Allah.We see that Gausul Azam Abdul Kader Jilani,Hazrat Mainuddin Chisty,Hazrat Shah Jalal Yameni,Hazrat Gausul Azam Maizbhandari came one after another for reforming.To know Allah every one should know Prophets.To know Prophets first you know Wali Awlia.Actually Allah, Prophets & Wali-Awlia bonded with same.Allahs`Prophet said:
"Innallaha Ajja Wa Jalla Yabus Lihazihil Ummati Ala Royachi Kulli Miati Min Sunnati Yazdid Laha Dineha."
"Definitely Allah will creat a Muzadded (Reformer) every after 100 years for the followers of Prophets (SM) & he will furnished the holy Religion".
Prophets (SM) & he will furnished the holy Religion". By following the life & work of Prophet Wali-Awlia got success .By following this Wali Awlia men can get success and achieve his goal.But in our society some people those who seems doing or practiceing Islam but they don't.They use Islam as their own interest.Thats why the real spirit of Islam under threat also new question arises about Islam.For saving Islam & his sprit the whole world community should be under a strong command.On that ground the follower of Sufism fell to make an organisation for uplifting the distressed humanity & real sprit of islam.
Honourable Majestic saint Hazrat Gausul Azam Mawlana Syed Gulamur Rahman Baba Bhandari Al Hasani Wal Hossaini preached the sprit of islam by founding the Tarikha named "Tarika E-Maizbhandaria".After him his decended the majistic saint & islamic scholler Mozadded E-Zaman Hazrat Allamah Alhajj Shah Sufi Mawlana Syed Mainuddin Ahmed Spread this Tarika in home & abroad also giving the guideline people for up holding the sprit of islam.For finding real path of Islam & reaching Allah now a lot of deciples under this tarika.With the desire of Prophets (SM) , Baba Bhandari & Tarikas followers on 1981 (Eng) 1388 (Bengali) 1401 (Hizri) Shahjada E-Gausul Azam Alhajj Shah Sufi Mawlana Baba Syed Mainuddin Ahmed Al Hasani Wal Hossaini founded the non political organization "Anjuman E-Rahmania Mainia Maizbhandaria"
Governing body of Anjuman:
1.Advisery Board
a) Chief Ptron & Chief Adviser :Syed Mainuddin Ahmad Al Hassani Wal-Hossaini (M J A)
B)President: Syed Saifuddin Ahmad Al Hassani Wal-Hossaini (M J A)
2.Stearing Comitte:
3.Central Comitte:
Flag Of Anjuman: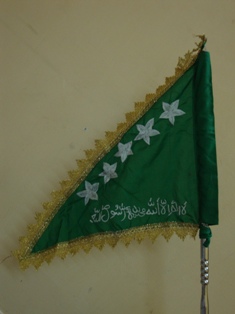 a) It is triangle.Its ratio is 5:3.
b) Its colour is green.
c) There are Five stars & Kalema with in it
The meaning of five stars:
1.The five piller of Islam : a) Kalema b) Namaz c) Roza d) Hajj e) Zakat. 2.Five Kalema of Islam. a) Tayaba b) Tawheed c) Tamjeed
3.Five Times Prayer. a) Fazr b) Zohor c) Asar d) Magrib e) Esha.
4.Five Pak Panchatan: a) Hazrat Muhammad (SM) b) Hazrat Ali (As) c) Syeda Fatima Binte Rasul (As) d) Hazrat Imam Hasan (As) e) Hazrat Imam Hossain (As).
5.Five Tarika: a) Kadria b) Chistia c) Nakshabandia d) Mozzaddedia e) Maizbhandaria. This flag is the mark of Allah & his Prophets (Sm) desire.
Vision:
1.Quran & Sunnah.
2.The Sufism real Islam shown by Sufi E-Keram.
3.Humanity, World Peace,Ummahs Unity & Brotherhood.
4.Successful Life Here & Hereafter.
5.True loving religion & path Tarika E-Maizbhandaria.
Aims & Object:
1.To build up honour & love for Allah, Prophet & all Wali Aulia keram
2.To devlope spiritual thought in human mind.
3.Tarika E-Maizbhanderia should establish in whole world to preach the real Islam.
4.To creat awareness among people about Wali Aulias life,work & their Shirne.
5.To make love & bonding with brotherhood among Maizbhandar Tarikas followers & others community people without chossing any cast &creed.
6.For preaching Tarika E-Maizbhandaria Dairah & Khanka should established.
7.To arrange weekly & monthly mahfil also yearly visit of Baba Mainuddin
8.Make arrangement of celebreting the holy days like Eid E-Miladunnabi,Asura,Fatha E- Azdaham,Ors in Maizbhandar Darbar in various date.
9.To help the distressed people due to Flood,Earth Quake,Hungriness& any other natural disester.
Projects of Anjuman:
1.Baba Bhandari Hospital with 200 beds.
2.Imam Training Projects.
3.Baba Bhandari Research Centre.
4.Maizbhandari Sufi Fdoundation Project
5.Relief & Rehabitation Fund Program.
6.Library.
7.Press Project.
8.Shahi Jame Mosque (10,000 peoples accomodated).
9.Website Devlopment
10.Volantiari Service Project.
Back to top